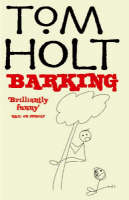 Add a Comment
Add Tags
---
Save to a List
Print
---
---
Item Details
Searching for more content…
Of course, some monsters are scarier than others: Unicorns? No bother. Vampires? Big deal. Werewolves? Ho hum. Lawyers? ...Aaargh! Duncan's boss doesn't think that he's cut out to be a lawyer. He isn't a pack animal. He lacks the killer instinct. But when his best friend from school barges his way back
… More »
Of course, some monsters are scarier than others: Unicorns? No bother. Vampires? Big deal. Werewolves? Ho hum. Lawyers? ...Aaargh! Duncan's boss doesn't think that he's cut out to be a lawyer. He isn't a pack animal. He lacks the killer instinct. But when his best friend from school barges his way back into Duncan's life, with a full supporting cast of lawyers, ex- wives, zombies and snow-white unicorns, it's not long before things become distinctly unsettling. Hairy, even.
« Less
Imprint:
London : -

Orbit
ISBN:
9781841492858, 184149285X, 9781841492865
Statement of responsibility:
Tom Holt
Characteristics:
404 p. ;,23 cm.
MARC Display&raquo
---
Find it at My Library
Loading...
Please keep in mind that some of the content that we make available to you through this application comes from Amazon Web Services. All such content is provided to you "as is". This content and your use of it are subject to change and/or removal at any time.