Gravity's Engines
How Bubble-blowing Black Holes Rule Galaxies, Stars, and Life in the Cosmos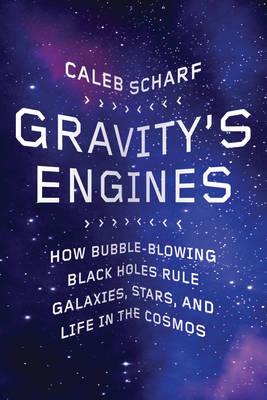 Add a Comment
Add Tags
---
Save to a List
Print
---
---
Item Details
Searching for more content…
We've long understood black holes to be the points at which the universe as we know it comes to an end. Often billions of times more massive than the Sun, they lurk in the inner sanctum of almost every galaxy of stars in the universe. They're mysterious chasms so destructive and unforgiving that not
… More »
We've long understood black holes to be the points at which the universe as we know it comes to an end. Often billions of times more massive than the Sun, they lurk in the inner sanctum of almost every galaxy of stars in the universe. They're mysterious chasms so destructive and unforgiving that not even light can escape their deadly wrath. Recent research, however, has led to a cascade of new discoveries that have revealed an entirely different side to black holes. As the astrophysicist Caleb Scharf reveals in Gravity's Engines, these chasms in space-time don't just vacuum up everything that comes near them; they also spit out huge beams and clouds of matter. Black holes blow bubbles. With clarity and keen intellect, Scharf masterfully explains how these bubbles profoundly rearrange the cosmos around them. Engaging with our deepest questions about the universe, he takes us on an intimate journey through the endlessly colorful place we call our galaxy and reminds us that the Milky Way sits in a special place in the cosmic zoo a "sweet spot" of properties. Is it coincidental that we find ourselves here at this place and time? Could there be a deeper connection between the nature of black holes and their role in the universe and the phenomenon of life? We are, after all, made of the stuff of stars.
« Less
Title:
Gravity's engines
how bubble-blowing black holes rule galaxies, stars, and life in the cosmos

Publisher:
Scientific AmericanFarrar, Straus and Giroux

Imprint:
New York : -

Scientific AmericanFarrar, Straus and Giroux
ISBN:
9780374114121, 0374114129
Notes:
Includes bibliographical references (p. [221]-239) and index.
Dark star -- A map of forever -- One hundred billion ways to the bottom -- The feeding habits of nonillion-pound gorillas -- bubbles -- A distant siren -- Origins : part I -- Origins : part II -- There is grandeur.
Statement of responsibility:
Caleb Scharf
Characteristics:
ix, 252 p. :,ill. ;,24 cm.
Author (Original Script):
Scharf, Caleb A.

MARC Display&raquo
---
Find it at My Library
Loading...
Please keep in mind that some of the content that we make available to you through this application comes from Amazon Web Services. All such content is provided to you "as is". This content and your use of it are subject to change and/or removal at any time.