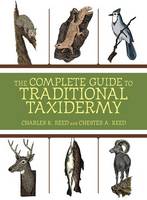 Add a Comment
Add Tags
---
Save to a List
Print
---
---
Item Details
Searching for more content…
Here is the original source for age-old instructions on correctly mounting all types of game, from birds to deer to fish and beyond a classic work revived with all of its masterful teachings and more than 250 precise illustrations. Guide to Taxidermy reveals the pleasure of doing taxidermy work for yourself
… More »
Here is the original source for age-old instructions on correctly mounting all types of game, from birds to deer to fish and beyond a classic work revived with all of its masterful teachings and more than 250 precise illustrations. Guide to Taxidermy reveals the pleasure of doing taxidermy work for yourself and the profit in performing the art for others. The authors break down what early twentieth-century taxidermists needed to know to be collectors, properly use the tools of the trade, and clean, skin, and mount a wide variety of game from start to finish, including sections on mounting heads, tanning skins, mounting fish and reptiles, collecting and mounting insects and eggs, using tools and gathering materials, selecting eyes and wires, and much more.
« Less
Imprint:
New York : -

Skyhorse Publishing
ISBN:
9781616085391, 1616085398
Statement of responsibility:
Charles K. Reed and Chester A. Reed ; drawings and photographs of mounted specimens by the authors and N. F. Stone
Characteristics:
304 p. :,ill. ;,19 cm.
MARC Display&raquo
---
Find it at My Library
Loading...
Please keep in mind that some of the content that we make available to you through this application comes from Amazon Web Services. All such content is provided to you "as is". This content and your use of it are subject to change and/or removal at any time.