Splendors and Glooms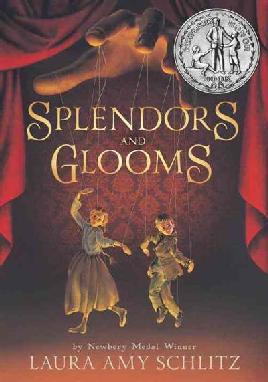 Add a Comment
Add Tags
---
Save to a List
Print
---
---
Item Details
Searching for more content…
When Clara vanishes after the puppeteer Grisini and two orphaned assistants were at her twelfth birthday party, suspicion of kidnapping chases the trio away from London and soon the two orphans are caught in a trap set by Grisini's ancient rival, a witch with a deadly inheritance to shed before it is
… More »
When Clara vanishes after the puppeteer Grisini and two orphaned assistants were at her twelfth birthday party, suspicion of kidnapping chases the trio away from London and soon the two orphans are caught in a trap set by Grisini's ancient rival, a witch with a deadly inheritance to shed before it is too late.
« Less
Author:
Schlitz, Laura Amy

Title:
Splendors and glooms

Publisher:
Candlewick Press

Imprint:
Somerville, Mass. : -

Candlewick Press
ISBN:
9780763653804, 0763653802, 9781408826218
Notes:
Also published as: Fire spell ; or, Splendours and glooms. London : Bloomsbury.
Statement of responsibility:
Laura Amy Schlitz
Characteristics:
xii, 384 p. ;,23 cm.
Author (Original Script):
Schlitz, Laura Amy

MARC Display&raquo
---
Find it at My Library
Loading...
Please keep in mind that some of the content that we make available to you through this application comes from Amazon Web Services. All such content is provided to you "as is". This content and your use of it are subject to change and/or removal at any time.