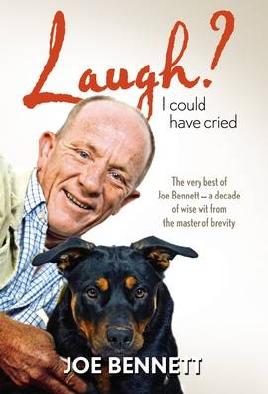 Laugh?
I Could Have Cried
Book

Joe Bennett was born into the middle classes of England in 1957. Life was stable, suburban and sunny. Computers weren't around to ruin his childhood, nor terror of paedophiles, nor fast food. He had it easy. Aged 29, he came to New Zealand for one year to teach. He's still here. But in 1998 he swapped the classroom for the opinion page of the nation's newspapers. Since then he's been Qantas Media Awards Columnist of the Year three times, he's had eleven collections of his columns published in New Zealand and three worldwide, he's written three best-selling travel books, he's become a regular on radio and television, and he has made far too many after-dinner speeches. In the introduction to his very first collection, he wrote: 'If anything holds these articles together it is that I like people but not in herds. I distrust all belief, most thought and anything ending in ism. Most opinion is emotion in fancy dress.' Ten years later, this book presents the very best of a decade's work organized by topic. Here are his most memorable thoughts on dogs, games, language, travel, the idiocy of belief, and the swamping trivia that shape our lives despite our best intentions, all of them written with the ferocious comic clarity that has made his name.
Searching for more content…
Publisher:
Auckland, N.Z. : HarperCollins, 2008.
Branch Call Number:
827.914 BEN
Characteristics:
316 p. ;,21 cm.
Custom Field2:
Columns previously published in the Press and other newspapers.
Dogs and other beasts. The anagrams of God. Communing with shags. Lying doggo. She smuggled a tortoise. Messing. They don't own nothing. He was a pretty good dog. For our convenience. Easter rising. How to be happy. Dogtape. Necks, please. Mister Muster. Felix means lucky -- Games. The boys from Brazil. Testosterone and tonic. The end of the road. The long slide to paradise. The cricket, exclamation mark. Toast him. Big cherub. Not quite death in the afternoon. Ballooooooon. Passion on the sofa. Rod and gut -- Language. Principal principles. Creep into thy narrow bed. In the bad lands. Or else say nothing. Natch. Murder your darlings. Grammar with teeth. SOBS. Talking lousy. Good as a rich monk. Lucy mon. Five and a half intimates. Mean. Do you care?. Fifty thousand an hour, money-makingly -- Teaching. The tongue-thing. Prizing advice. A call to arms. Cosh the teacher. He was my English teacher. The values of Minscum. More tosh. A lot like us. Kneeing zucchini -- Domestic and personal stuff. Be the boss. Cars and frying pans. Baking nuts. Twenty yak. Love for lunch. Small stuff. Einstein's bus. Lie lie lie. Hope and pile-cream. A tale of two mice. White rectangular domestic things. Lotsadeadredindians. Land you can play with. Dreams on wheels. At two drunks swimming. A cup of Eros. When your turangawaewae crumbles. Between us and dust. Hello, heat. Where do you go to?. Nannies and billies. Nesting recruits. See me saw. The threshold of the ginge. Up Apophthegm Mountain. Ah, winter. Hello again -- Travel. From here to prostate. Moose-hunting by supermarket trolley. Aleppo. Cuchulain's children. Ooooh la bloody la. Wrong room -- The things people do. The ods roll over. Eating with experts. I believe in pigs. Of chopping and sticking. Would you care to?. The squeals of children. Hobbes at the trough. Mad as accountants. The big question. How far away is the lizard?. You too. I shall. Hope is dead. At the Dickens. Warm, wet and threatless. Hapsburg staplers. Let's make with the jam. Train me, please -- The things peopel believe. Standing for nothing. Deep in the dogs. The thyroid of Unks. Girlie sox. Oi Popey-boy. Lies to spare. Glossy lala. Destiny's children. Hi ho. Dear College of Cardinals. Not if, but when. Funny and true. Reverend reasoning. Little Miss Moss. In the deep midsummer. Circumbloodychristmas -- Political and social stuff. P.C. Sturrock. Ringing the world. The man was a pornographist. Because he is a man. Jules. Food, fun and a tickle behind the ear. Is anybody there?. De mortuis nihil nisi Latin. I, speechwriter. For we are young and free. White brain, black body. Dung time. Gotcha. Can't hear you. All you need to know. Sprawled and gurgling. Brand life. You can say things like. Catabingo.

---
Opinion
From the critics
---
Community Activity
Notices
Add Notices
There are no notices for this title yet.
Quotes
Add a Quote
There are no quotes for this title yet.