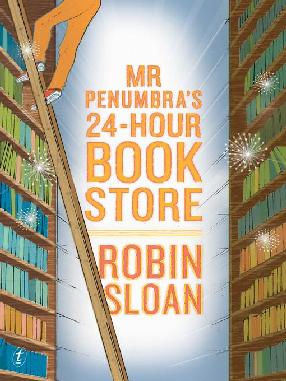 Mr Penumbra's 24 Hour Bookstore
eBook - 2012

After a layoff during the Great Recession sidelines his tech career, Clay Jannon takes a job at the titular bookstore in San Francisco, and soon realizes that the establishment is a facade for a strange secret.
Searching for more content…
Publisher:
Melbourne :, The Text Publishing Company,, 2012.
Characteristics:
1 online resource.
Notes:
Downloadable eBook.
Not recommended for use on the libraries' public computers
Requires Adobe Digital Editions, OverDrive App, or similar.
---
Opinion
From Library Staff
List - Quirky e-book reads
CCLLinwoodLibrary
Aug 26, 2020
A tall narrow San Franscico bookstore that piques newly employed Clay Jannon's and the reader's interest. Other Robin Sloan titles available in e-book format.
List - Best Reads 2013
robertafsmith
Feb 11, 2013
When you've done a lot of reading, it is a real joy to get stuck into a book that is just that bit different but remains accessible. I thoroughly enjoyed this story with its fluorescent cover. It is about books, it is about secret societies and it is about very very bright young things. Give it a... Read More »
Comment
ChristchurchLib
Dec 17, 2012
"After he's laid off from his marketing job at a bagel company, Clay Jannon walks the streets of San Francisco, looking for jobs. He finds one at a narrow but incredibly tall bookstore (ability to climb a ladder is one of the prerequisites) that's open around the clock; as the new kid, Clay ... Read More »
---
From the critics
---
Community Activity
Age Suitability
Add Age Suitability
Sierrachick07 thinks this title is suitable for 14 years and over
MistyBlue22 thinks this title is suitable for 15 years and over
Summary
Add a Summary
The protagonist, Clay Jannon, is hired by San Francisco independent bookstore owner -- Mr Penumbra -- to retrieve books from 10 pm to 6 am, at the request of long time bookstore customers holding an unusual interest in highly obscure volumes. Clay has never heard of any of these book titles, which are never purchased, only loaned.
When Clay examines one of these books, he sees page after page of unreadable encrypted characters, no spaces, no punctuation. Yet the customers return night after night, returning one book, and taking another.
The question is: Why?
DanniOcean
Dec 13, 2012
Clay Jannon is a graphic and web designer who finds himself unemployed in the new economy. While wandering the streets of San Francisco he accidentally finds Mr. Penumbra's 24-Hour Bookstore, and after a very brief interview based on his favourite book, finds himself the store's new night 10pm-to-6am clerk. There are three rules to working there – he must be on time and cannot leave early, he may not look inside any of the ancient-looking books that are reserved for members, and third, he must keep precise notes about all transactions (including how they smell, what they wear, what they say and how they appear mentally). Mr. Penumbra's unique approach to store-keeping is matched by his odd clientele who appear in the oddest hours of the night, but they are few and far between so to occupy his time Clay starts developing a web-presence for the store. He creates a 3-D map of the transactions and… a face appears in the results. What follows is a literary adventure of the highest order – a cult of readers bent on discovering but keeping secret the immortality locked in ancient texts of an early typographer, versus Clay and his band of quest seekers, albeit their modern-day equivalents of rogue, wizard and hero. And although the modern-day wizard uses all the power of Google to help them, the printed texts do not give up their secrets easily. It is not until Clay uses all the tools in his magic bag – from the ultimate hacker site to his ultimate favourite novel to the ancient texts themselves - that the code is broken, and the answers are not at all what everyone involved thought they would be. Digital vs. print, Google vs. books, technology vs. old knowledge, piracy vs. privacy, these are the battles of our times and all themes in the book, but the overall story is an adventure, a quest simply reimagined in the techno-age. Given that the author was once an employee at Twitter and has released the book in both print and e-formats, Sloan may be hedging his bets - but his first novel has all the feel of a love-letter to books.
Notices
Add Notices
There are no notices for this title yet.