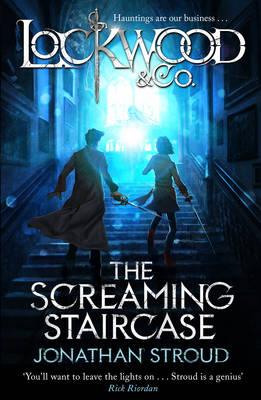 The Screaming Staircase
Book - 2013

When the dead come back to haunt the living, Lockwood & Co. step in. For more than fifty years, the country has been affected by a horrifying epidemic of ghosts. A number of Psychic Investigations Agencies have sprung up to destroy the dangerous apparitions. Lucy Carlyle, a talented young agent, arrives in London hoping for a notable career. Instead she finds herself joining the smallest most ramshackle agency in the city, run by the charismatic Anthony Lockwood. When one of their cases goes horribly wrong, Lockwood & Co. have one last chance of redemption. Unfortunately this involves spending the night in one of the most haunted houses in England, and trying to escape alive. Set in a city stalked by spectres, The Screaming Staircase is the first in a chilling new series full of suspense, humour and truly terrifying ghosts. Your nights will never be the same again.
Searching for more content…
Publisher:
London :, Doubleday Children's,, 2013.
Branch Call Number:
OLDER FICTION
Characteristics:
452 pages :,illustrations ;,24 cm.
---
Opinion
From Library Staff
List - If you like... Rick Riordan
afictionado
Jul 22, 2015
Great spooky mysteries, totally recommend.
Comment
ChristchurchKids
Dec 23, 2014
The Screaming Staircase is one of the most exciting books I've read this year. Jonathan Stroud had me on the edge of my seat, anticipating a ghost to jump out at me around every twist and turn of the plot. Jonathan has created such a chilling atmosphere in the book that you hear the creaks and g... Read More »
Comment
ChristchurchLib
Nov 27, 2013
"Out of all the agencies that protect the citizens of London from deadly spectral Visitors, Lockwood & Company isn't exactly the most professional. In fact, they messed up their last job so badly that they set a house on fire. Now, to save the agency from bankruptcy, teen ghost hunters L... Read More »
---
From the critics
---
Community Activity
Notices
Add Notices
Coarse Language: Very mild swearing
Frightening or Intense Scenes: A few intense scenes and slightly scary scenes. I'm a young teen and I though they were fine but I wouldn't recommend it for anything younger than a 10-year-old
Coarse Language: D--n, d--ned, how the h---, what the h---, why the h---, and bloody were each used once
Summary
Add a Summary
A girl named Lucy works at a company, "Lockwood and C.O.", with co-workers Lockwood and George. They all work as ghost catcher. One night they encountered a ghost nameed Anne Ward. While catching her a fire begins in the house. The owners ask them to pay €60,000 for repair, but the company does not has that much money! Will they be babble to pay off the depth and find the truth about Anti Ward?
ELIZABETH RAMSEY BIRD Sep 08, 2013
It all began with The Problem. One day, for no apparent reason, the dead started to walk amongst the living. Not just walk, but really wreak some serious havoc. Here are the facts of the matter. 1. If you see a ghost, run. 2. Don't let a ghost touch you, or you're dead. 3. Only kids can see ghosts. What are we to make of these facts? Well, it's no surprise when ghost-busting operations hiring children start cropping up. Enter Lockwood & Company. Run by the charming Anthony Lockwood alongside his two compatriots Lucy and George the ramshackle operation is barely scraping by. Enter a job that goes particularly wrong when the kids accidentally burn down their employers' home, and it would take a miracle to save the agency. Fortunately, a miracle shows up in the form of a very rich and powerful man. He's hiring the three to take on the most haunted house in all of Britain. The catch? No one's ever gotten out of it alive. Will our intrepid heroes take on the job, or is there more at work here than meets the eye?