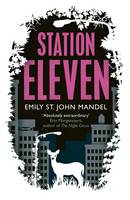 Station Eleven
Book - 2014

Day one. The Georgia Flu explodes over the surface of the earth like a neutron bomb. News reports put the mortality rate at over 99%. Week two. Civilization has crumbled. Year twenty. A band of actors and musicians called the Travelling Symphony move through their territories performing concerts and Shakespeare to the settlements that have grown up there. Twenty years after the pandemic, life feels relatively safe. But now a new danger looms, and he threatens the hopeful world every survivor has tried to rebuild. Station Eleven. Moving backwards and forwards in time, from the glittering years just before the collapse to the strange and altered world that exists twenty years after, Station Eleven charts the unexpected twists of fate that connect six people: famous actor Arthur Leander; Jeevan warned about the flu just in time; Arthur's first wife Miranda; Arthur's oldest friend Clark; Kirsten, a young actress with the Travelling Symphony; and the mysterious and self-proclaimed 'prophet'.
Searching for more content…
Publisher:
London :, Picador,, 2014.
Branch Call Number:
FICTION
Characteristics:
333 pages ;,23 cm.
---
Opinion
Featured Blogs and Events
It started with the destruction of the world via avian flu and ended with mind control and memory loss via music. My last few weeks have been filled with two books from my go-to genre, dystopian science fiction, and both were rip-snorters. Station Eleven by Emily St. John Mandel is a classic post-apocalyptic tale. A deadly flu that kills within hours sweeps through the entire world populatio… (more)
Talk to me about the future! Talk to me about the end of the world; about plagues and the collapse of civilisation. Talk to me about fame and dead ends and the different ways people find themselves stranded; talk to me about the art people make in order to stay alive, stay human, because survival is insufficient. This is Emily St John Mandel's latest book, Station Eleven. Full disclosure, I… (more)
From Library Staff
---
From the critics
---
Community Activity
Age Suitability
Add Age Suitability
dstradling thinks this title is suitable for 16 years and over
frenchhornistba thinks this title is suitable for 15 years and over
Summary
Add a Summary
melwyk
Sep 25, 2014
One snowy night in Toronto, an actor playing King Lear drops dead on stage. Only 24 hours later, most of the city is dead from a rapidly spreading virus. The few survivors find, as the electricity and water stop, as the internet drops out, that the virus has killed 99% of the world's population.
The question arises: how to live now? In Emily St John Mandel's unusual approach to a post-apocalyptic novel, the survivors of this modern plague retain their longing for community and civilization, trying their best to live in pockets of humanity across North America.
Early on, we meet the Travelling Symphony, a group of musicians and actors who travel caravan-style around the countryside, performing Shakespeare and symphonies to the scattered inhabitants of tiny settlements. As Kirsten, a main character, has tattooed on her arm: Survival is insufficient.
However, this symphony is also heavily armed, as chaos does exist in the new world. There are those in this rough life who rely on violence, including an eerie Prophet who controls a town the Travelling Symphony rolls into at the start of the story. This Prophet and his followers will pursue them for the rest of the book, adding an edge of suspense.
The story weaves back and forth from apocalyptic present to the past, revealing ways in which all the characters are connected. The constant return to 'before' results in a sense of nostalgia for what we haven't yet lost. Mandel points out precious elements of daily life that her characters have lost forever – the taste of an orange, the feel of air conditioning, ice cream, the ability to connect with one another by phone.
Throughout the book we also encounter Dr. Eleven, a scientist in a graphic novel that Kirsten has carried with her over the many years of post-apocalyptic life. The two volumes she owns of this tiny graphic novel sustain her. Dr. Eleven lives on a satellite, Station Eleven, after the earth is destroyed, and his story reflects her own. This imaginary graphic novel is fleshed out so wonderfully that I hope it is only a matter of time before Mandel releases a real-life edition.
This is a beautiful book; imaginative and full of complex characters, it is a post-apocalyptic novel that combines danger with beauty, sadness with hope. Mandel clearly believes that there is something good in humanity that will endure.
Notices
Add Notices
There are no notices for this title yet.