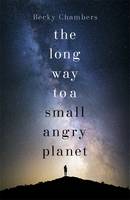 The Long Way to A Small, Angry Planet
Book - 2015

When Rosemary Harper joins the crew of the Wayfarer, she isn't expecting much. The Wayfarer, a patched-up ship that's seen better days, offers her everything she could possibly want: a small, quiet spot to call home for a while, adventure in far-off corners of the galaxy, and distance from her troubled past. But Rosemary gets more than she bargained for with the Wayfarer. The crew is a mishmash of species and personalities, from Sissix, the friendly reptillian pilot, to Kizzy and Jenks, the constantly sparring engineers who keep the ship running. Life on board is chaotic, but more or less peaceful exactly what Rosemary wants. Until the crew are offered the job of a lifetime: the chance to build a hyperspace tunnel to a distant planet. They'll earn enough money to live comfortably for years if they survive the long trip through war-torn interstellar space without endangering any of the fragile alliances that keep the galaxy peaceful. But Rosemary isn't the only person on board with secrets to hide, and the crew will soon discover that space may be vast, but spaceships are very small indeed.
Searching for more content…
Publisher:
London :, Hodder & Stoughton,, [2015]
©2014

Branch Call Number:
SCIENCE FICTION
Characteristics:
404 pages ;,25 cm.
---
Opinion
Featured Blogs and Events
I've been in a bit of a reading slump for several months, but it's starting to pick up again. Mostly I seem to be into Adventures in space! books at the moment (to be fair when am I not into Adventures in space! books?), possibly a result of the Star Wars renaissance. It's a good time to be a science fiction fan. Recent recommended reads: The Ancillary trilogy by Ann Leckie, beginning with … (more)
From Library Staff
List - Interspecies Romance - Christchurch City Libraries
ChristchurchLib
Jan 25, 2019
In this light-hearted take on a space opera, a motley crew roam the cosmos in a patched-together ship. Alongside the twists and turns of space-adventuring, various romances between unlikely partners develop, including between the protagonist (a human) and a reptilian pilot. With strong character ... Read More »
List - LGBTQIA+ Fiction - Sci-Fi and Fantasy - Christchurch City Libraries
ChristchurchLib
Feb 24, 2019
For fans of shows like Farscape and Firefly, this is an awesome book about the crew of the spaceship Wayfarer as they travel through a wormhole to a distant planet. Featuring a diverse cast of characters with different species, different genders and gender identities, different sexualities and mo... Read More »
Comment
afictionado
Feb 13, 2017
Similar to Firefly in its episodic nature, with small adventures rather than large, and focussed on characters rather than having a racing plot. If you prefer something more fast-paced then this isn't for you, but if you're interested in an introspective, comforting sci fi read then give this a go.
---
From the critics
---
Community Activity
Quotes
Add a Quote
The only reason Humans stopped killing each other to the extent that you used to, I think, is because your planet died before you could finish the job.
Like many lifelong spacers, Ashby didn't care much for heights on land. Looking down at a planet from orbit was no problem, because out there, falling meant floating. If you took a long fall _inside_ a ship – say, down the engine shaft on a big homesteader – you'd have enough time to shout the word "_falling_!" This would prompt the local AI to turn off the adjacent artigrav net. Your descent would abruptly end, and you'd be free to drift over to the nearest railing. You'd piss off anyone in the vicinity who'd been drinking mek or working with small tech parts, but it was a fair price to pay for staying alive (the "falling" safety was also popularly exploited by kids, who found the sudden reversal in gravity within a crowded walkway or a classroom to be the height of hilarity). But planetside, there was no artigrav net. Even a drop of a dozen feet could mean death, if you landed wrong. Ashby didn't care much for gravity that couldn't be turned off.
Living in space was anything but quiet. Grounders never expected that. For anyone who had grown up planetside, it took some time to get used to the clicks and hums of a ship, the ever-present ambience that came with living inside a piece of machinery… Silence belonged to the vacuum outside.
Notices
Add Notices
There are no notices for this title yet.