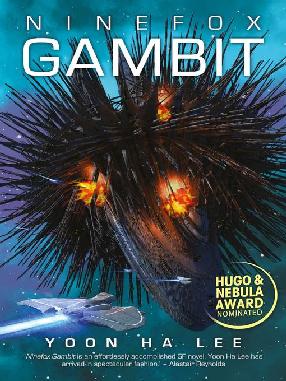 Ninefox Gambit
eBook - 2016

When Captain Kel Cheris of the hexarchate is disgraced for her unconventional tactics, Kel Command gives her a chance to redeem herself, by retaking the Fortress of Scattered Needles from the heretics. Cheris's career isn't the only thing at stake: if the fortress falls, the hexarchate itself might be next. Cheris's best hope is to ally with the undead tactician Shuos Jedao. The good news is that Jedao has never lost a battle, and he may be the only one who can figure out how to successfully besiege the fortress. The bad news is that Jedao went mad in his first life and massacred two armies, one of them his own. As the siege wears on, Cheris must decide how far she can trust Jedao?because she might be his next victim.
Searching for more content…
Publisher:
Oxford :, Rebellion Publishing Ltd,, 2016.
Characteristics:
1 online resource.
Notes:
Downloadable eBook.
Not recommended for use on the libraries' public computers.
Requires Adobe Digital Editions, OverDrive App, or similar.
---
Opinion
From Library Staff
List - Science fiction - Space Opera - Christchurch City Libraries
ChristchurchLib
Jul 13, 2019
Action packed space opera. Follow disgraced commander Kel Cheris as she gets the opportunity to redeem herself by commanding a mission to retake a star fortress from the heretics who have taken it. In a thrilling action orientated space opera, Cheris must decide whether an ally who could turn the... Read More »
List - Stuff we love - September 2018 - Christchurch City Libraries
StaffPickles
Sep 04, 2018
Alina's pick: Not for the faint-hearted, this is an incredibly dense scifi story about a disgraced captain who has to work with a mass-murdering (but tactical genius) undead general to save the Fortress of Scattered Needles.
---
From the critics
---
Community Activity
Age Suitability
Add Age Suitability
KickyMcGee
Jun 14, 2017
KickyMcGee thinks this title is suitable for 12 years and over
peter_leitch thinks this title is suitable for All Ages
Summary
Add a Summary
The Fortress of Scattered Needles—a key strategic holding of the Hexarchate Empire—has been overtaken by heretics from within, an event which threatens to spread calendrical rot across the galaxy. Thanks to its shields of invariant ice, recapturing the Fortress by siege is virtually impossible, and the only man who could do it, General Shuos Jedao, has been dead for three hundred years. Fortunately, he has been preserved as an undead weapon which can be extracted from the black cradle when duty calls. Captain Kel Cheris—a mathematical prodigy who inexplicably chose the military Kel faction over the more academically minded Nirai—is selected to be the person to wield this "weapon," and lead the campaign to reclaim the Fortress of Scattered Needles. Unfortunately for Cheris, Shuos Jedao slaughtered his own army before his death, which means that the Hexarchate's secret weapon is mad traitor who cannot be trusted, even when his help is desperately needed.
Quotes
Add a Quote
The problem with authority is that if you leave it lying around, others will take it away from you. You have to act like a general or people won't respect you as one.
Notices
Add Notices
There are no notices for this title yet.