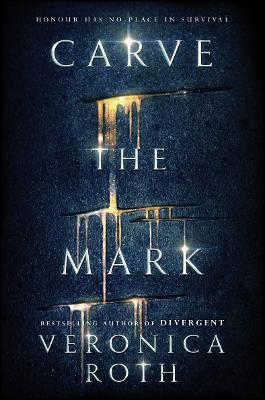 Carve the Mark
Book - 2017

On a planet where violence and vengeance rule, in a galaxy where some are favoured by fate, everyone develops a currentgift, a unique power meant to shape the future. While most benefit from their currentgifts, Akos and Cyra do not their gifts make them vulnerable to others' control. Can they reclaim their gifts, their fates, and their lives, and reset the balance of power in this world? Cyra is the sister of the brutal tyrant who rules the Shotet people. Cyra's currentgift gives her pain and power something her brother exploits, using her to torture his enemies. But Cyra is much more than just a blade in her brother's hand: she is resilient, quick on her feet, and smarter than he knows. Akos is from the peace-loving nation of Thuvhe, and his loyalty to his family is limitless. Though protected by his unusual currentgift, once Akos and his brother are captured by enemy Shotet soldiers, Akos is desperate to get his brother out alive no matter what the cost. When Akos is thrust into Cyra's world, the enmity between their countries and families seems insurmountable. They must decide to help each other to survive or to destroy one another.
Searching for more content…
Publisher:
London :, HarperCollins Publishers,, 2017.
Branch Call Number:
YOUNG ADULT FICTION
Characteristics:
468 pages ;,24 cm.
Notes:
Precedes: The fates divide.
---
Opinion
Featured Blogs and Events
When looking for a book to read, there are a few boxes that I prefer to be ticked: strong female protagonist, sassy side characters, fantasy dystopian futures with rebellions and creative interpretation of both sides being morally grey (hey, I didn't say that the check list was realistic). Carve the Mark, upon first glance, appears to fulfil this perfectly. There are bad guys, there are… (more)
From Library Staff
List - Science Fiction - Teens - Christchurch City Libraries
ChristchurchTeens
Dec 11, 2020
This series has it all: action, intrigue and revenge. Two sides of a planet are at war. And in the middle of it all, there's Cyra and Akos, enemies bound together by fate. Cyra's gift has been warped into a curse: the pain she is constantly in can infect and even kill others. Akos' gift is to neg... Read More »
Comment
Watermelody
Apr 19, 2018
After getting through the first section which was a bit slow, I really enjoyed the themes and characters in Carve the Mark. Would recommend to teens/adults who enjoy fantasy and sci-fi.
---
From the critics
---
Community Activity
Quotes
Add a Quote
"Soft hearts make the universe worth living in"
"Pity , I knew, was just disrespect wrapped in kindness"
"I know what it is to become something you hate, I know how it hurts. But life is full of hurt. And your capacity for bearing it is much greater than you believe."
Summary
Add a Summary
This story is mercilessly twisted and wonderfully magical. Taking you to a world torn between love and hate and strikingly like our own at its core. Whether or not you're a fan of Veronica Roth's Divergent series, you will find something incredibly lovable about this book. I read this as a 7th grader and even now as a 10th grader in highschool I still find it captivating. This book is perfect for anyone looking to dive into a YA fantasy. Whether or not you're in middle school or high school, the story will have something for you.
spl_merley
Jul 28, 2017
When the prophecy of his fate is broadcast to the universe Akos and his brother are captured and taken by the Shotet where they are enslaved by the Shotet leader who himself wants to overcome his own fated future. When Akos is forced to serve Cyra, the Shotet leader's sister and weapon, he is surprised by what he discovers about this monster. Wrestling with unexpected gifts and unavoidable fates two enemies find themselves working together to overcome the pain that they and their planet must face.
Notices
Add Notices
There are no notices for this title yet.