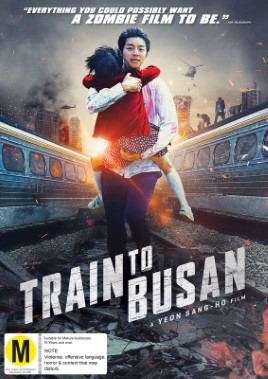 Train to Busan
DVD - 2017 | Korean

While a zombie-virus breaks out in South Korea, a couple of passengers struggle to survive on the train from Seoul to Busan.
Searching for more content…
Publisher:
[Newtown, N.S.W.] :, Distributed by Icon Home Entertainment,, [2017].
Characteristics:
1 DVD (118 min.) :,sound, colour ;,12 cm. Region 4
Notes:
Anamorphic widescreen 1.85:1.
In Korean with English and Chinese subtitles.
---
Opinion
Featured Blogs and Events
Dr. Erin Harrington is a researcher and lecturer at the University of Canterbury. Her area of expertise? Monsters, murderers and all things sinister and unsettling - or more specifically, the horror genre.  Harrington is giving a free talk at the university next week on just this topic. Being something of a horror enthusiast myself I was keen to pick her brains (not literally), about why… (more)
From the critics
---
Community Activity
Age Suitability
Add Age Suitability
WhenTheSirenCalls thinks this title is suitable for 15 years and over
wth_this_sucks thinks this title is suitable for 8 years and over
Notices
Add Notices
Frightening or Intense Scenes: Intense scenes
Violence: Zombie violence and blood
Coarse Language: Minor cussing like asshole
Quotes
Add a Quote
Aloha 'Oe in English subtitle, Song that Su-an sings in the tunnel at the end:
Proudly swept the rain by the cliffs
As it glided through the trees
Still following ever the bud
The `ahihi lehua of the vale
Chorus
Farewell to you, farewell to you
The charming one who dwells in the shaded bowers
One fond embrace,
'Ere I depart
Until we meet again
Sweet memories come back to me
Bringing fresh remembrances
Of the past
Dearest one, yes, you are mine own
From you, true love shall never depart
I have seen and watched your loveliness
The sweet rose of Maunawili
And 'tis there the birds of love dwell
And sip the honey from your lips
Busan. I want to see mommy.
-I told you, another time, okay?
No. tomorrow. You always say next time, and lie to me.
===
It's a crucial period right now.
-Sure. You know best. She was disappointed that you weren't at the recital. It's a crucial period for her too.
===
Su-an, you didn't have to do that.
-Do what?
Be so good. At a time like this, only watch out for yourself.
===
He's a fund manager.
-Fund manager?
Yes.
-So he's a bloodsucker. He leeches off others.
===
We have to uncouple it and go to Busan.
-Uncouple?
Yes!
-We can't!
Why not?!
-It can't be done here.
===
We've got to go!
-No! My friends aren't here yet!
Those on board must survive!
===
I bet you never got to play with your daughter. When she gets older, she'll understand why you worked so hard. Dads get all the shxt, and no praise. But it's all about sacrifice, right?
===
I practiced that song just for you. That's why I couldn't sing. Because I didn't see you.